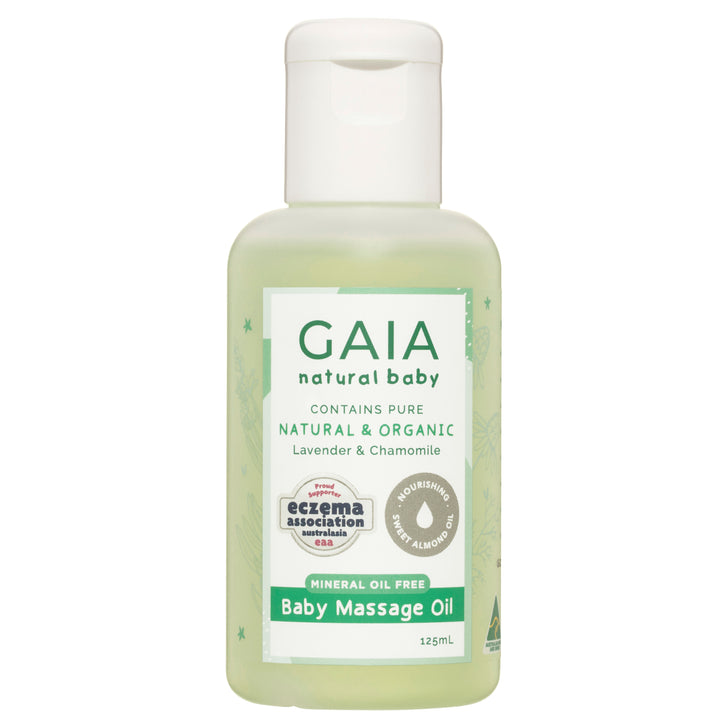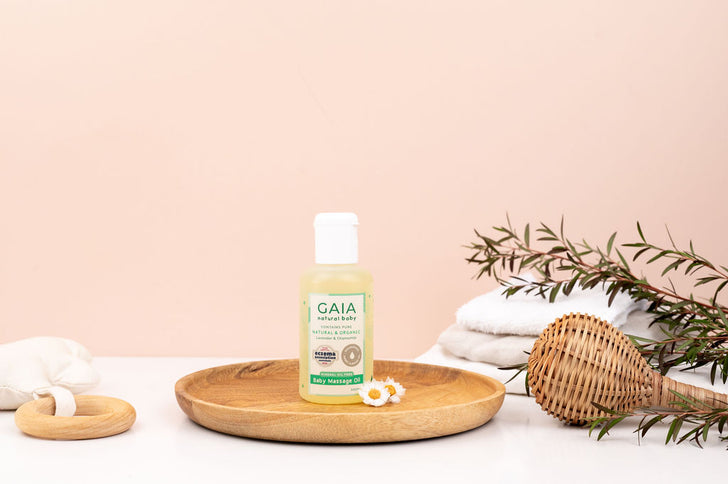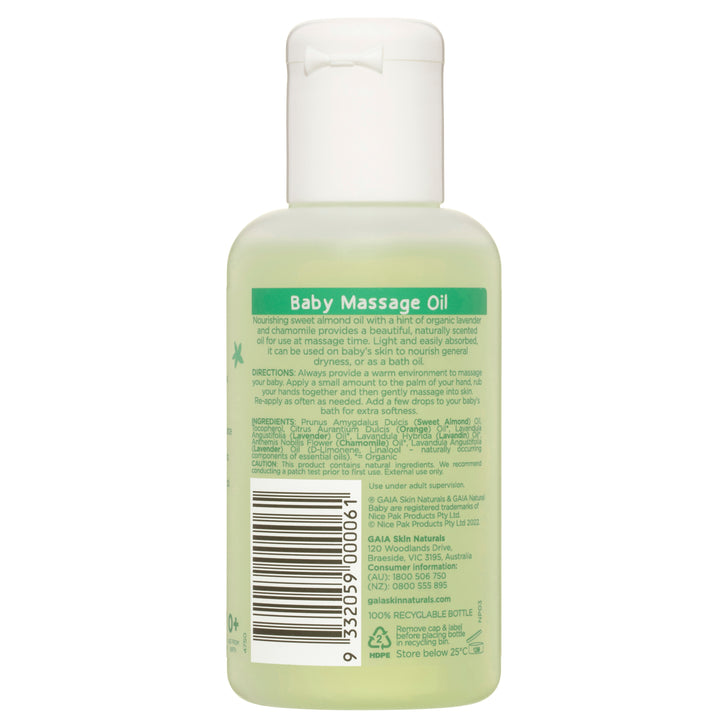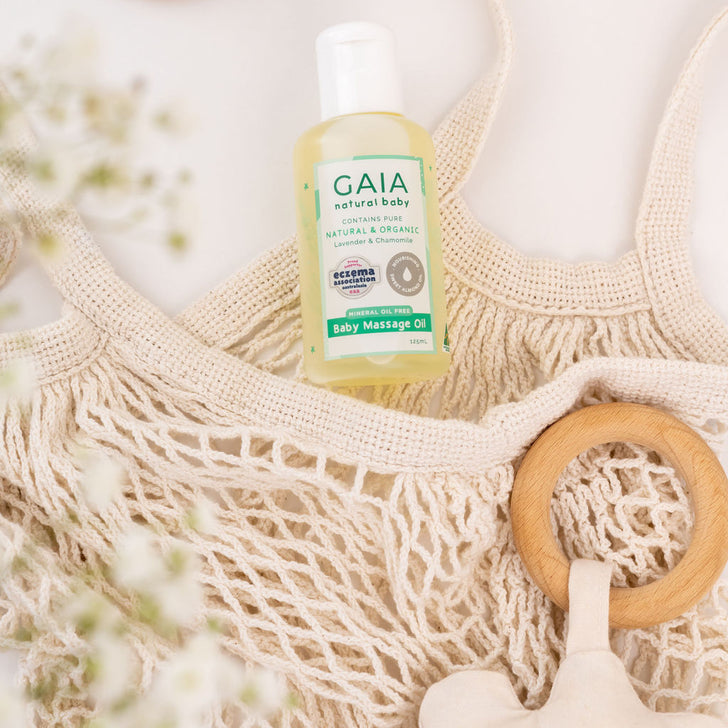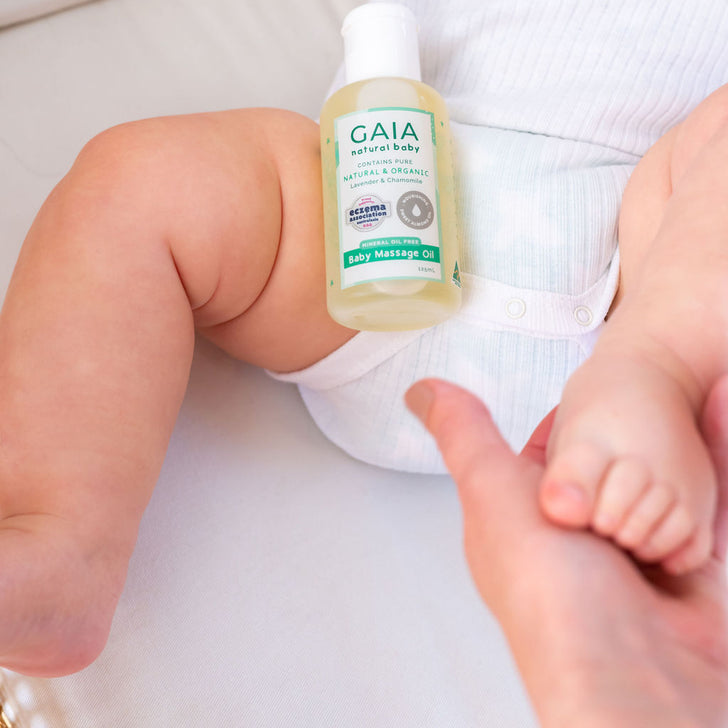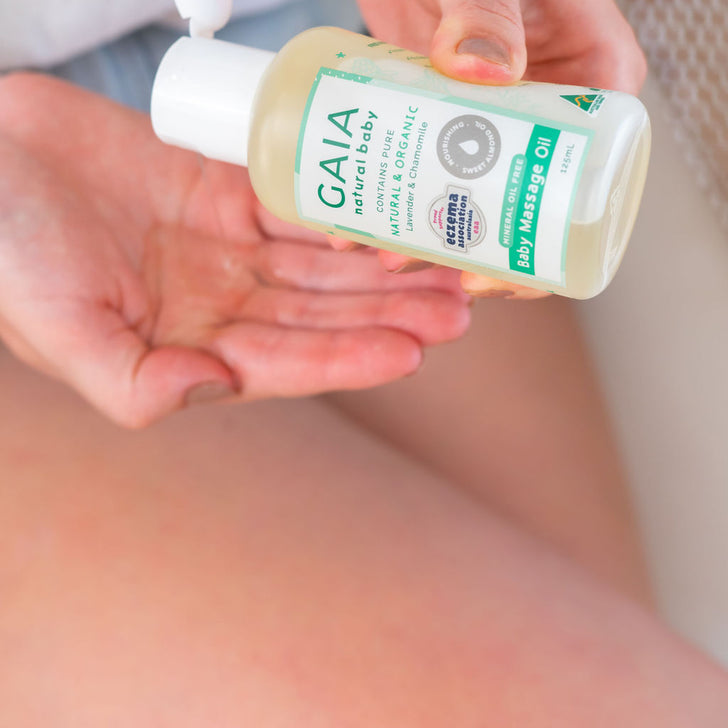 Baby Massage Oil
Regular price
Sale price
$11.50 AUD
Unit price
per
At GAIA Skin Naturals, we love baby massage time! It's a wonderful bonding time for your family and soothing for baby, encouraging skin on skin time and lots of eye contact, cuddles and smiles. That's why we created GAIA Natural Baby Massage Oil. It's a mini massage for your mini human, in a bottle.
Made from cold-pressed sweet almond oil to nourish skin combined with organic lavender and organic chamomile pure essential oils to soothe and calm, it can be used on a newborn, baby or toddler. It's completely mineral oil-free so it will absorb beautifully into skin and won't clog pores or cause irritation. Our massage oil was formulated from consultations with therapists from Infant Massage Australia, so you know that baby is in good hands.
It's not just for baby though - our oil can be used on adult skin as well, either during pregnancy or after. It absorbs completely into the skin, leaving you with a gorgeous glow and absolutely no greasy residue.
Key Ingredients
Sweet Almond Oil

Organic Chamomile

Organic Lavender

Organic Sweet Orange Pure Essential Oil

Vitamin E
Baby massage is a lovely way to encourage bonding between your family and the new addition. It encourages eye to eye and skin contact whilst the soothing sounds, smells, cuddles and smiles all help baby and parent feel even closer.
It's designed to establish close and loving communication whilst having amazing therapeutic benefits.
Massage releases both oxytocin and endorphins and therefore can assist in relieving discomfort associated with teething, congestion, colic, reflux and emotional stress.
It's particularly great for premature babies – Studies have shown that massaging premature babies has an extremely positive result, with an up to 47% weight increase per day and these premature babies are discharged an average of six days earlier.
Cruelty-Free and lovingly Australian owned and made.
Baby massage (obviously)!
On a pregnant belly to increase suppleness and elasticity of your growing tummy or as bonding time between dad and the bump.
To massage any part of your body which might need a little bit of extra love – which when you're pregnant, we know is a few!
Combine a few drops of the GAIA Natural Baby Massage Oil with the GAIA Natural Baby Bath and Body Wash to a bath to create even more nourishment and moisture for yours or baby's skin.
Prunus Amygdalus Dulcis (Sweet Almond) Oil, Tocopherol, Citrus Aurantium Dulcis (Orange) Oil*, Lavandula Angustifolia (Lavender) Oil*, Lavandula Hybrida (Lavandin) Oil*, Anthemis Nobilis Flower (Chamomile) Oil*, Lavandula Angustifolia (Lavender) Oil
(D-Limonene, Linalool – naturally occurring components of essential oils).
*= Organic
You could softly hum or quietly sing to them whilst massaging to create a calming environment for them.
It's perfect for winding them down before bed.
When massaging their tummy, go clockwise in a circular motion.